Ulu Temburong National Park Canopy Walk (Day Trip)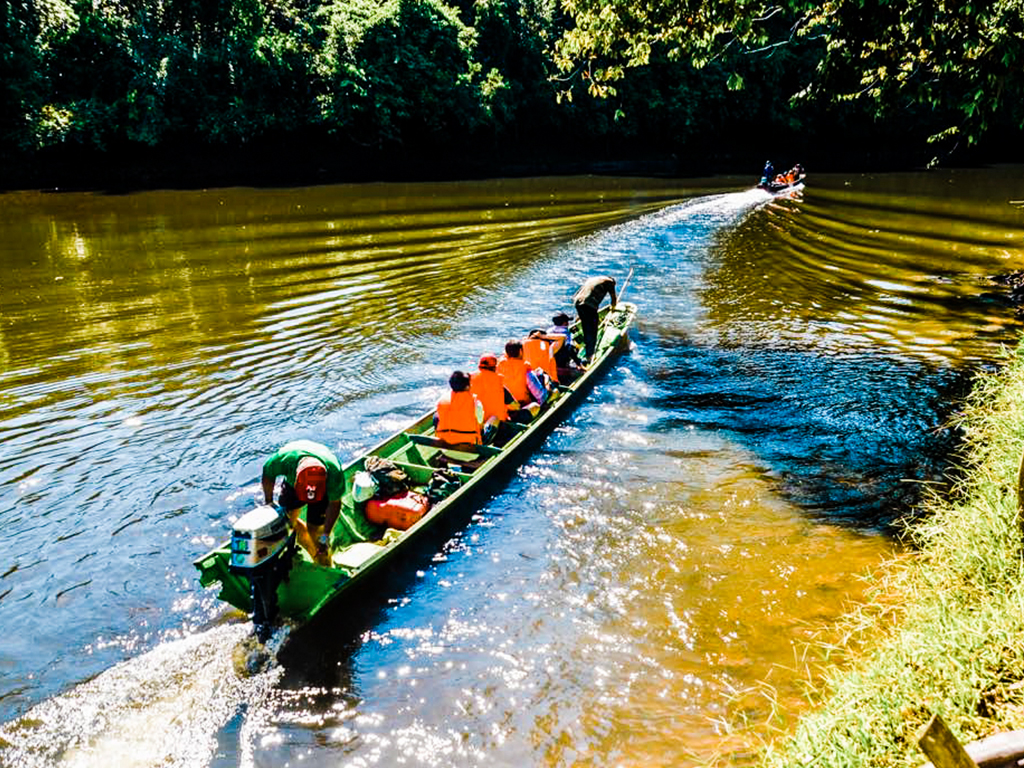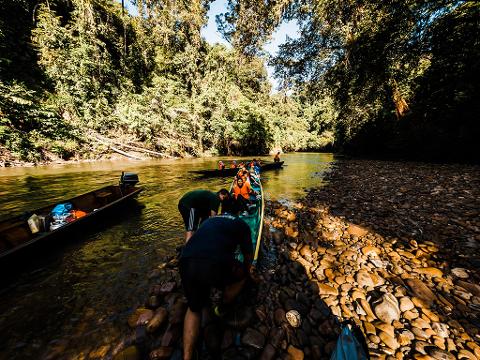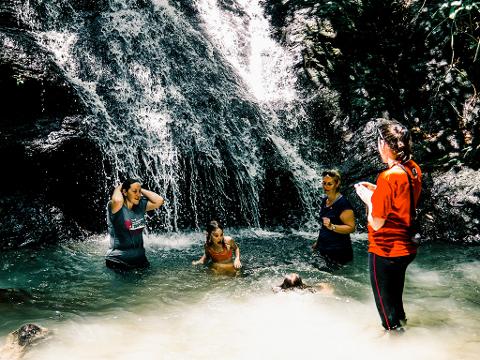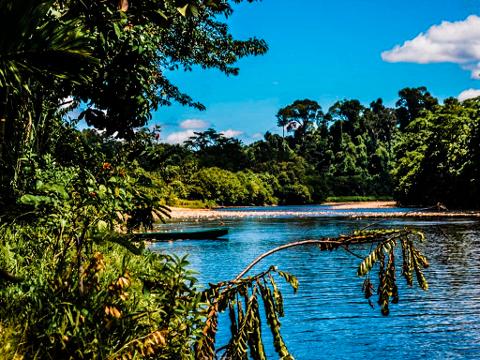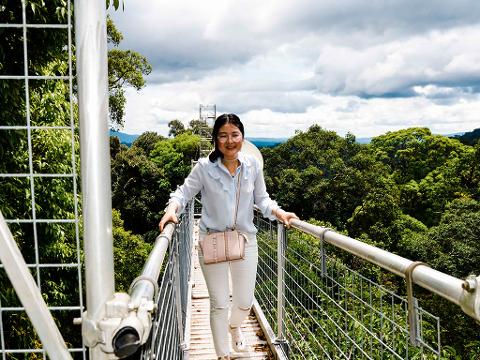 Duration: 8 Hours (approx.)
Product code: SEV02
Highlights: Sumbiling Eco Village | Ulu Temburong National Park | Canopy Walk | Nature Fish Spa | Waterfall
Short itinerary

Morning
Meet at BSB Jetty, Bandar Seri Begawan; Speedboat ride to Bangar town, Temburong.
Welcomed by local guide at the Bangar jetty for overland transfer to Sumbiling Eco Village.
Morning tea served once arrive at Sumbiling Eco Village.
Depart by motorised longboat / "Temuai" to Ulu Temburong National Park.
Once you arrive at National Park, register at Park HQ and begin trekking uphill to the Canopy Walkway.
Depart Ulu Temburong National Park and visit waterfall and nature fish spa.
Noon
Back to Sumbiling Eco Village. Freshen up, lunch, relax & photo time.
Overland transfer to Bangar; Speedboat ride to Bandar Seri Begawan.
Depart Sumbiling Eco Village to Bangar Jetty
Speedboat ride to Bandar Seri Begawan
Arrive at Bandar Seri Begawan. End of tour.
Description
Situated on the banks of the Temburong river, Sumbiling Eco Village is an eco lodge that offers amazing nature based activities including the famous trend, "glamping". Home to the Iban Community, our aim is to achieve sustainability by preserving and maintaining the environment and utilizing existing resources. We also want to promote the harmonious and rich culture of the indigenous tribes of Borneo. Prepare to be enticed with their nature induced simple way of life, mysticism beliefs, culture and unique laws. The Sumbiling Eco Village practices responsible tourism, hence making it Brunei's first eco tourism destination.
The area is an epitome of nature's playground. Temburong district is separated from the rest of Brunei by Malaysia. The Ulu Temburong National Park is regarded as one of the best preserved rainforest areas in Borneo. Our SEV packages include fun filled trekking activities and nature excursions to the renowned park. Here you can find various rare species of Flora and Faunas.
This humbling experience perfectly fits the busy and fast paced travel itineraries, giving you time to breathe and unwind. Your trip begins with a 45 minute speedboat ride to Temburong. You will be picked up by your guide in a vehicle where your journey to SEV begins. Once you arrive SEV, morning tea is served and then change to your trekking/waterproof attires. The Temuai, a traditional boat will take you to Ulu Temburong National Park through the meandering rivers. After you register, you will start your jungle trekking activity towards the canopy walk. Be prepared to meet exotic animals such as the Borneon Gibbon, squirrels, bushy crusted Hornbills, Wagler's pit viper, rhinceros hornbill and swiftlets are notable in the park.
Also friendly residents are four hundred species of butterfly, some quite rare. Enjoy the postcard-perfect exhilarating view as you stand 50 meters above ground and immerse yourself in the tranquil view of mountains of neighbouring countries. On your way back, the Temuai will stop by one of the many waterfalls this area has to offer and treat yourself to a nature fish spa.
After returning, freshen up and get down to a hearty lunch, possibly with a treat in the form of wild vegetables foraged from nearby! Some relax and photo time or rest on the hammock beside the river, and then time to pack up and say good bye. Depart for Bangar, returning to BSB by speedboat*, with fond memories of your rainforest holiday, made possible by Sumbiling Eco Village!
Package Includes
Return speedboat fare BSB - Bangar
Return transfer Bangar - Sumbiling Eco Village
Return long boat ride to National Park
Local guide in Temburong
Ulu Temburong National Park entrance fee
Visit to Canopy Walkway
Visit to waterfall and nature fish spa
Morning tea, lunch, free flow water and hot drink at Sumbiling Eco Village
Package Excludes
Personal Toiletries
Tips for guides and staff
Bamboo chicken (USD$22 per tube for 2-3pax)
Water tubing activities (USD$10 per person)
Additional requests for products, services or amenities not expressly mentioned above. Special request may be fulfilled at additional cost.
DISCLAIMER: Timing is
subjected to boat schedules and other factors. At times you might need to wait
more than one hour for boat departure.



_______________________________________________________________________________________________________________________
Terms & Conditions
Please read this carefully before you proceed to book with us. These terms and conditions
are binding once the booking is confirmed by us.
Provision of package is on a seat-in-coach basis. Cost based on Minimum 2 pax going. Extra charges will be levied for personal tours.
The operator and its affiliates exclude any liability for any discomfort, death or injury occurring within our premises or on tours conducted resulting from guest's own negligence or from circumstances, natural or otherwise, beyond reasonable foresight of the operator.
Guests are expected to show respect for the natural environment by refraining from destruction or removal of flora, fauna or other components,unless otherwise permitted, and with the knowledge of the guides in attendance. Guests are also expected to strictly adhere to safety regulations and directions from the guides at all times during the duration of the tour.
As an outdoor trip, itinerary and times indicated are subject to change without notice, as trips may be affected by rain, heat, high or low water levels in the river, and guests' fitness levels which might affect the speed of mobility.
Meals are prepared with local style and consist of chicken, fish & assorted vegetables, unless otherwise pre-requested and agreed upon between operator and guest. Guests observing a vegetarian regime, or other dietary preferences are to make their preferences known at the time of booking in order for suitable meals to be prepared, to the best effort of the operator.

All payments must be made in full upon confirmation of the booking request and NO Refund will be provided for "NO SHOW" or any unused portion of tour and/or accommodation once booking is confirmed.